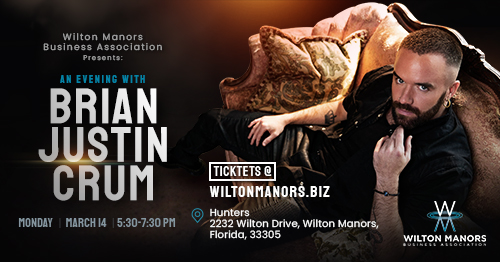 Brian Justin Crum @ WMBA's March Happy Hour
We are excited to welcome Brian Justin Crum to Wilton Manors Business Association's March happy hour @ Hunters Nightclub Wilton Manors!
We will present Brian Justin Crum's 10-minute TED talk, he will do a 30-45 min set and be available for a few questions after.
Additional tickets and non-member tickets will start at $10 and escalate to $30 at the event (if available). We anticipate this event WILL PROBABLY SELL OUT!
BJC has been a huge champion for the LGBTQ community. He has talked about being bullied as a young gay man. He has used his voice and experience to give a voice to those that don't have a voice. Join us to hear BJC's story and also his amazing voice and why we need to continue to do our part until everyone is treated with dignity, respect and inclusion!
A little more about Brian Justin Crum:
BJV is a singer-songwriter currently creating in Los Angeles. He is known for his soaring vocals and emotional storytelling. His first single "Show Me Love" reached #2 on the Billboard Dance charts and was named in the top 10 dance records of 2017 alongside Rihanna, Dua Lipa and Ed Sheeran. He became a viral sensation with his cover of Radiohead's "CREEP" on America's Got Talent which has amassed over 100 Million views online and "Never Enough" which entered the iTunes Pop Charts.
He has had an expansive career in the Arts, getting his start on Broadway at just 17 years old. From "Wicked" and Pulitzer Prize winning "Next to Normal" to QUEENS rock theatrical "We Will Rock You" (where he got to perform alongside original band members Brian May and Roger Taylor). BJC has sold out concerts all over the world and has honed his sound along the way. The sonic landscape of his debut EP is inspired by the nightlife of Berlin. Pop melodies matched with house and techno beats really paint the picture of a year of personal growth. The first single "Other Side" is coming soon.
The Brian Justin Crum ticket sales has ended!
The VIP Ticket ticket sales has ended!